Major Cryptocurrencies including Bitcoin, Ethereum, and BNB saw a major hit on Wednesday. The Bitcoin value which had crossed $1 trillion crashed overnight with a sharp 50% downfall in contrast to its value in April 2021. The trend was seen after Chinese regulators announced on Tuesday their crackdown against Cryptocurrencies.
The Chinese Announcement that led to the downfall of Cryptocurrencies
The Chinese announcement was indeed the final nail on the coffin that led to the downfall of cryptocurrencies. On Tuesday China announced that it will no longer be accepting payments involving cryptocurrencies. All payment companies and financial institutions have been banned from dealing in cryptocurrency transactions. In compliance with the new policies, all banks and payment channels will not be providing services such as registration, trading, etc. in the form of cryptocurrencies such as Bitcoin, Etherum, and BNB. A similar ban was previously issued in 2017 as well. However, the one imposed on 18th May 2021 has further intensified the barring of virtual currencies.
Tesla and Bitcoin
Elon Musk, the Tesla chief put the investment market to a halt when he announced earlier this week that – "Tesla has suspended vehicle purchases using Bitcoin.."
He further elaborated the reason for not using this form of cryptocurrency as Bitcoin mining is detrimental to the environment.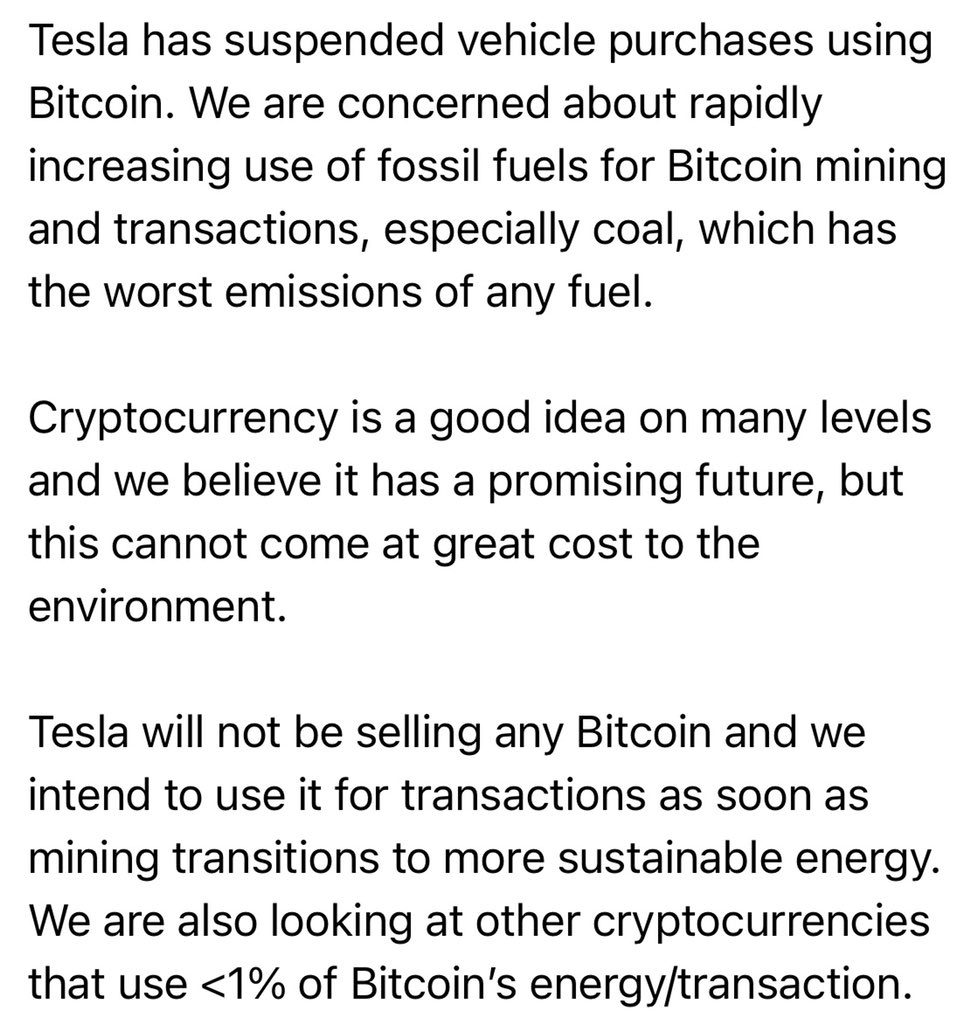 Elon Musks tweets sent traders scrambling. A senior marketing analyst who owns a currency trading firm in OANDA, Edward Moya, spoke on the environmental damage to
On Wednesday, Edward Moya, a senior market analyst at currency trading firm OANDA, said that Musk was getting ahead of investors focused on sustainability.
"Realistically, it is not the first time Elon Musk's tweets have been erratic and, frankly, wrong," said Ulrik Lykke, executive director at crypto hedge fund ARK36. "The crypto markets are extremely emotionally driven. Their participants are prone to overreacting to events they perceive as negative."
What's Next?
The crash of Bitcoin is not associated with one event only. There are multiple events that account for the downfall. The most prominent being the excessive use of fossil fuels for crypto mining.
"Cryptocurrency is a good idea on many levels and we believe it has a promising future, but this cannot come at great cost to the environment," – Musk.
According to reports generated by CoinMarketCap.com, Crypto markets have decreased more than $850 billion from their total market value.